3.Why NIC is chosen among many Japanese language schools?
①Proven track record of Japanese language instructors and staff
【Japanese Language Teachers at NIC】
All of NIC's Japanese language teachers are professionally certified and have many years of experience in teaching Japanese. They are bilingual and can offer lessons in English if necessary. In addition, NIC has Japanese teachers who speak French, German, Chinese, Korean, Spanish, Italian, Portuguese, and Russian. NIC strives to improve the effectiveness of Japanese language learning by selecting the "best teacher" for each student, taking into consideration the student's native language, purpose of learning Japanese, current level, personality, etc. The same teacher will teach from the beginning to the end of the lesson, so you can expect consistent results.
【NIC's Staff】
Our school staff who will support your school life is also bilingual, so please feel free to contact us.
②It is centrally located in Tokyo and offers low tuition fees
【Located in the center of Tokyo】
NIC is located in Azabu-juban, Minato-ku, in the center of Tokyo. It is close to Roppongi and Akabanebashi, and a 30 minute subway ride will take you from any location in Tokyo. Students can smoothly commute to the school even after work from the office district.
12 minutes by train from Azabujuban Station to Shinjuku Station, 16 minutes from Shibuya Station, and 21 minutes from Tokyo 23minutes Shinagawa Station, 25minutes from Ikebukuro Station, 25 minutes Ueno Station.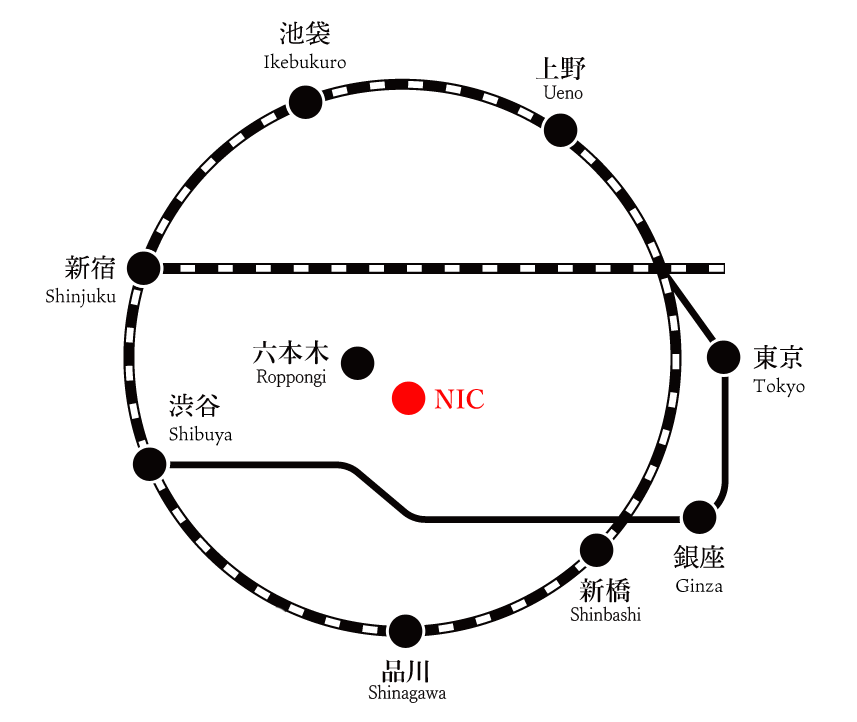 【NIC's fixed cost setting】
At NIC, tuition fees are affordable so that overseas students can study without worry. The screening fee, entrance fee, facility fee, etc., which are included in the tuition fee at other Japanese language schools, are included in the tuition fee.
| School Name | Tuition |
| --- | --- |
| NIC | ¥4,400/60min |
| School A | ¥5,600/50min |
| School B | ¥5,400/50min |
※Facility charge,  enrollment fee, selection fee and insurance fee are charged separately at other schools.
※Textbook fee is not included.
※Both are basic fees for Japanese class.
③There are wide variety of courses
We offer a variety of courses for students of all ages and objectives, including those who want to learn Japanese for everyday life in Japan, those who want to improve their Japanese language skills for certification (JLPT), and those who want to learn Japanese for school or business use.
Survival Course

https://nicjapanese.com/courses/survival/
・Intensive course for those who have just arrived in Japan
・You can learn Japanese necessary for daily life such as introducing yourself, shopping, ordering at restaurants, etc.
Beginners' Course

https://nicjapanese.com/courses/beginners/
・You can learn the basic Japanese.
・You can Learn the required minimum level of Japanese for daily life.
・You can learn common Japanese words and expressions used in daily life. 
・The course is designed for foreigners who have been in Japan for a short period of time.
Intermediate Course

https://nicjapanese.com/courses/intermediate/
・The course is divided into three levels: beginner, intermediate and advanced.
・This course continues to the next advanced course.
・Twice a week and once-a-week courses are available.
Advanced Course

https://nicjapanese.com/courses/advance/
・This course is suitable for those who have completed the Intermediate and Advanced courses or are at the N1 level of the Japanese Language Proficiency Test.
・The content of the course material is the same as what a native Japanese speaker would use. While learning about the culture behind the language, you will be able to understand and use Japanese in a wide range of situations.
・You will be able to read various texts, such as newspapers and general books while appreciating the subtle differences in meaning and style.
Japanese Letter Course

https://nicjapanese.com/courses/japanese-characters/
・It has convenient schedule that matches the time of your beginner Japanese lessons.
・If taken after the beginner course, the fee will be lower.
・Fees are set lower than conversation lessons.
Preparatory Course for the Japanese Language Proficiency Test(JLPT) 

https://nicjapanese.com/courses/jlpt/
・It provides support for individual learners in small groups.
・Experienced instructors will teach you reading, listening, writing, vocabulary, and grammar according to the curriculum.
・Free preliminary level check test and learning consultation.