If you are interested in learning Japanese, our office near Roppongi is an ideal location. All our private lessons are customized with the goals and abilities of our students in mind and cover all levels from beginner to advanced. Our fully-qualified and experienced teachers understand very well that each student learns at a different pace and in different ways. Private lessons allow you to take advantage of maximum one-to-one contact to keep you progressing fast and gain a comprehensive understanding of Japanese. Each student is assessed for their personal learning needs and our lessons are totally flexible in structure and tailor-made for each student, ensuring that the student learns as efficiently and enjoyably as possible. Through teacher-student "matching" your instructor will get to know you and keep you on the road to success. Your teacher will remain with you throughout your studies so continuity is guaranteed.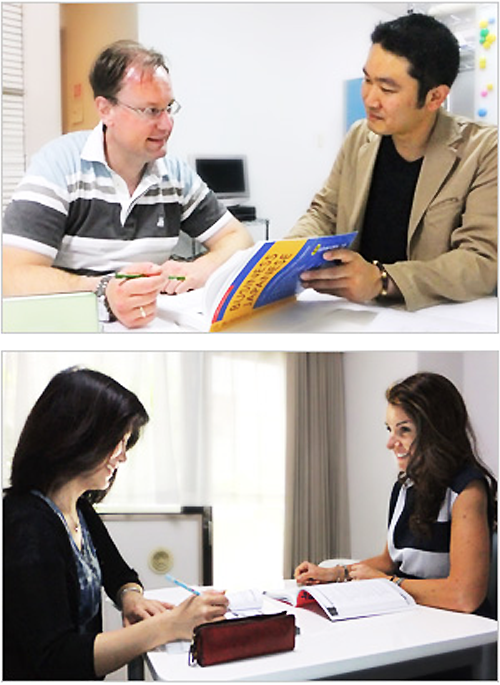 Three different teaching options are available:
All levels from Beginners to Advanced
Business Japanese
JLPT Preparatory lessons
Fees for Japanese lessons (Private / Group)
Number of Students
Hours
1
2
3
4
5
Fee w/tax (wo/tax)
1
4,400 (4,000)
3,300 (3,000)
2,723 (2,475)
2,305 (2,095)
1,865 (1,695)
1.5
6,380 (5,800)
4,400 (4,000)
3,564 (3,240)
2,932 (2,665)
2,420 (2,200)
2
8,250 (7,500)
5,500 (5,000)
4,400 (4,000)
3,460 (3,145)
2,827 (2,570)
3
12,100 (11,000)
7,700 (7,000)
6,600 (6,000)
5,187 (4,715)
4,241 (3,855)
The fees listed above are per person in a class.
Fees for class lessons (more than 6 students) are available on request.
We offer tax free lessons for foreign embassy staff who have an appropriate exemption certificate.
If you have friends who want to have Japanese lessons with you, bring them along and you can spread the cost.
Lessons at Azabu Juban School
NIC-Japanese Language School Tokyo is conveniently located. We offer private and group lessons.
Classrooms are within walking distance from Azabujuban, Roppongi and Hiroo.
Just a one-minute walk from the Azabu Juban Station Nanboku line exit.(Exit 1)
5 minutes walk from the Azabu Juban Station Oedo line exit. (Exit 7)
15 minutes walk from the Roppongi Station Hibiya line exit. (Exit 3)
15 minutes walk from the Roppongi Station Oedo line exit. (Exit 3)
10 minutes walk from Roppongi Hills
20 minutes walk from Hiroo
*Please note there is a facility fee of 330 yen per person per lesson.
Online lesson
We also offer online lessons(Google Meet・Skype・LINE・Zoom etc.). Lesson fee is 10 percent off compared to face to face. If you are unable to come to our Azabu Juban School or if you would rather have your Japanese lessons at a time and place of your choosing, NIC can provide a teacher for you. Both private and group lessons are available. NIC's experienced Japanese teachers assure interesting and high quality lessons at your office, home or elsewhere. The areas covered by this service include Tokyo, Saitama, Chiba and Kanagawa. For more information, please contact NIC. *Please note there is an additional teacher's travel fee (up to 1000 yen) . Do you prefer having lessons at your own place at your own convenience? NIC can dispatch Japanese teachers.
Number of Students
Hours
1
2
3
4
5
Fee w/tax (wo/tax)
1
3,960 (3,600)
2,970 (2,700)
2,451 (2,228)
2,074 (1,885)
1,679 (1,526)
1.5
5,742 (5,220)
3,960 (3,600)
3,208 (2,916)
2,636 (2,396)
2,178 (1,980)
2
7,425 (6,750)
4,950 (4,500)
3,960 (3,600)
3,114 (2,831)
2,544 (2,313)
3
10,890 (9,900)
6,930 (6,300)
5,940 (5,400)
4,668 (4,244)
3,817 (3,470)