At a subway station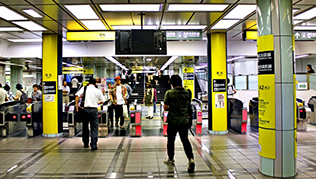 One day morning at a subway station, on one's way to work
Nick
:
Excuse me, tell me what happened.
すみません、なにがあったんですか?
Sumimasen, nani ga atta n desu ka?
Station Employee
:
The train has stopped due to the mechanical problem.
でんしゃが こしょうで とまっています。
Densha ga koshoo de tomatte imasu.
Nick
:
Oh, dear.
When will it start moving ?
ええっ? いつ うごきますか?
Ee ? Itsu ugokimasu ka?
Station Employee
:
We are very sorry.    We don't know, yet
もうしわけありません。 まだわかりません。
Mooshiwake arimasen. Mada wakarimasen.
Nick
:
It is troubling…
こまったなぁ…。
Komatta naa…
Talking on a cell phone at the platform.
Nick
:
This is Nick.  Good morning.
ニックです。 おはようございます。
Nick desu.  Ohayoo gozaimasu.
Secretary
:
Good morning, Mr. Nick.
おはようございます、ニックさん。
Ohayoo gozaimasu, Nick-san.
Nick
:
I'm sorry, but I'll be a little late .
すみません、 __________
Sumimasen, __________I'm still at a subway station near my house.
いま まだ うちのちかくの ちかてつの えきです。
Ima mada uchi no chikaku no chikatetsu no eki desu.The train has stopped its operation due to the mechanical problem.
でんしゃが こしょうで とまっています。
Densha ga koshoo de tomatte imasu.
Secretary
:
I am sorry to hear that, but I understand the situation
それは たいへんですね。わかりました。
Sore wa taihen desu ne. Wakarimashita.
Nick
:
Thank you.
ありがとう。
Arigatoo.
Which is correct?
ちょっとおくれます chotto okuremasu
ちょっとおそいです chotto osoi desu
ちょっといそがしいです chotto isogashii desu
解答

ちょっとおくれます chotto okuremasu
NIC instructor Masako Iida