Shopping かいもの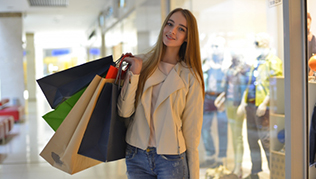 clerk:May I help you?
いらっしゃいませ
Irasshaimase.Nick:Could you show me that shirt?
あのシャツをみせてください。
Ano shatsu o misete kudasai.clerk:What's your size ?
サイズはいくつですか。
Saizu wa ikutsu desu ka.Nick:I'm looking for M-size. Can I try this on?
サイズはMです。 しちゃくしてみてもいいですか。
Saizu wa M desu. Shichaku shite mitemo iidesu ka?clerk:Sure.
どうぞ。
Doozo.Nick:This is a little tight. Do you have a bigger one?
ちょっとちいさいです。 もっとおおきいのが______________。Chotto chiisai desu. Motto ookii no ga ______________.clerk:This is L-size.
こちらはL-サイズです。どうぞ。Kochira wa L-saizu desu. Doozo.Nick:This is perfect fit.  What's this made of ?
ぴったりです。  そざいは なんですか。Pitttari desu.  Sozai wa nan desu ka?
clerk:This is made of 100% cotton.
こちらは めん100パーセントです。
Kochira wa men hyaku paasento desu.
Nick:That's good.  Then, I'll take this.
そうですか。  じゃあ、これをください。Soodesu ka.   Jaa kore o kudasai.
Which is correct?
いいですか iidesuka
ほしいです hoshiidesu
もっていますか motteimasuka
ありますか arimasuka
NIC instructor Masako Iida