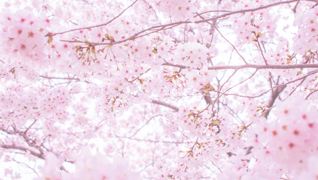 Sakura (桜) or Cherry Blossom is the Japanese name for ornamental cherry trees and their blossoms. Cherry fruit(known as sakuranbo) comes from a different species of tree.
Sakura is indigenous to the Himalayas, and in East Asia such as China, Japan and Korea. Especially, Japan has a wide variety of sakura: more than 300 cultivars can be found here. Many were artificially hybridized or grafted by Japanese horticulturalists centuries ago.
Hanami, or parties for cherry blossoms viewing, got popularity among the aristocrats during the Heian period (8 th to 12th centuries), and went to its extreme with Toyotomi Hideyoshi, the 16th century warlord., when he threw a hanami under the cherry blossoms of Daigoji Temple in Kyoto. Hanami became a custom among the common people during the Edo period (1600-1867)、and it's still one of the biggest annual events today. Japanese people appreciate the beauty of the sakura and enjoy the beautiful view. Some do hanami by eating and drinking under the cherry blossoms with friends.
Every year the people pay close attention to the update information provided by Meteorological Agency regarding cherry blossom forecast, as the location of the areas with newly cherry blooming moves gradually northward up the Japanese archipelago .
There are many famous cherry blossom spots in Japan, and these places can be crowded. There are cherry trees everywhere throughout Japan. Stop by any castles, parks, shrines, temples and schoolyards nearby. You can enjoy quietly the beauty of cherry blossoms there.
But hurry, because the sakura blooms for one week.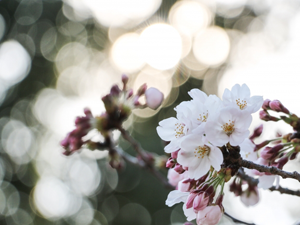 Sakura blossoms long ago went deep into the Japanese heart. The monk-poet Saigyo (西行) composed the poem in about 1150 : "A world without the scattering blossom would rob me of my feeling of melancholy." One reason the sakura has fascinated the Japanese for centuries is that its peak of beauty is so short. In Japan sakura symbolizes the short-lived life. The sakura is so fragile that it reaches its peak fast and disappears fast. The Japanese find this way of blooming and scattering graceful and attractive.
The most popular variety of sakura in Japan today is the Somei Yoshino. Its flowers are pale pink. They bloom and usually fall within a week, before the leaves come out. The variety was cultivated about 130 years ago in Somei (now part of Toshima-ku in Tokyo ) and named after its birthplace. Most of the cherry blossoms that the ancient poets like above-metioned Saigyo saw are believed to be those of the wild Yamazakura (山桜)variety,. Mount Yoshino in Nara Prefecture was the most famous blossom-viewing spot in ancient times、and even today the spot still attracts many visitors every year. Among other varieties are yaezakura and shidarezakura, The yaezakura has large flowers, thick with double deep pink petals. The shidarezakura, or weeping cherry, has willow-like branches
If you are planning to go to Kyoto, spring is a good time. Kyoto's historical sites are famous for their cherry trees. Many tourists from abroad and in Japan visit Kyoto for cherry blossoms. But there are many good spots for hanami in and around Tokyo as well..
The below are some of recommended spots :
Ueno Park: a few steps from Ueno Station
One of Japan's most crowded and popular cherry blossom spots, featuring more than 1,100 trees along the street toward the National Museum and around Shinobazu Pond.
Shinjuku Gyoen : 5 minute walk from Shinjuku Station.
a large park featuring more than one thousand cherry trees of over a dozen varieties in Western and Japanese style gardens. Entrance fee is 200yen. Open between 9:00 and 16:30.
Chidorigafuchi : Subway Kudanshita Station
Around the Imperial moats .
Aoyama Cemetery : 5 minute walk from Gaienmae Station
The straight road leading through cemetery, lined by hundreds of cherry trees.
Sankei-en : 10 minutes by bus from JR Negishi Station
A beautiful Japanese landscape garden in southern Yokohama, displaying many historic buildings from across Japan.
NIC instructor Sachiko Hamano