HOME
ĀĄAbout NIC - Nihongo Instructor Club
About NIC - Nihongo Instructor Club
Nihongo Instructor Club (NIC) is an organization of professional Japanese teachers with extensive teaching experience and qualifications.
Besides holding all levels of Japanese classes and private lessons at its school in Azabu, Tokyo, NIC sends Japanese teachers to students' offices and homes in the areas covered (Tokyo, Saitama, Chiba and Kanagawa).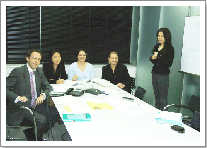 What makes NIC different from the rest
Our Japanese teachers are all certified professional.
We can send teachers to you at your home, office or wherever you choose to have your Japanese lessons.
We use proven "Visual Memory" teaching methods (*).
Our Japanese lessons are customized to suit each student's needs, goals and capabilities.
(*) Visual Memory - A method relying on student's memory.
Lessons use everything from props, photos, puzzles, games and even toys. It works and it's FUN!
Company Data
Corporate Name:

NIC Co., Ltd. dba Nihongo Instructor Club

President:

Noriko Awazu

Established:

1-Oct. -2001

Address:

Grand Maison Azabu Ichinohashi No.205,




2-20-10 Azabu Juban, Minato-ku, Tokyo

Website:

www.nicjapanese.com

Phone:

03-3454-5002

E-mail:

info@nicjapanese.com
Office on New Year Holidays:
Dec, 28 - Jan. 5